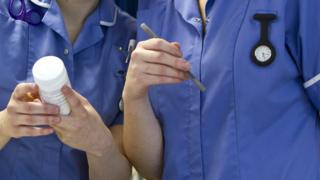 Image copyright
Science Photo Library
The NHS in England is drastically short of the nurses it needs, with 40,000 posts unfilled, figures suggest.
The total is double what it was in 2013 - and means one in nine positions is now vacant, according to the analysis by the Royal College of Nursing.
The union said the situation was dangerous, blaming the stress of working in the NHS and the cap on pay rises for the problem.
But the Conservatives said plans were in place to tackle the issue.
The party has said the extra money being invested - an average of 1% a year between 2010 and 2020 - is enabling ministers to ensure patient safety is prioritised and, despite the vacancies, the number of nurses employed is still rising.
Between 2010 and 2016 the numbers employed have risen by 2% to just over 300,000 full-time nurses.
The scale of the problem
The RCN, which is holding its annual conference in Liverpool, does not dispute this, instead it has looked at how many nurses NHS trusts needed to employ, but cannot.
It relied on freedom of information requests to obtain data from all types of NHS trusts for the end of 2016 and received responses from three-quarters.
They suggested on top of the nurses employed there were another 40,000 posts unfilled across the whole health service.
This equates to a vacancy rate of over 11% and compares to a total of 20,000 when the RCN last carried out similar research in 2013.
@-webkit-keyframes spinnerRotate { from{-webkit-transform:rotate(0deg);} to{-webkit-transform:rotate(360deg);} } @-moz-keyframes spinnerRotate { from{-moz-transform:rotate(0deg);} to{-moz-transform:rotate(360deg);} } @-ms-keyframes spinnerRotate { from{-ms-transform:rotate(0deg);} to{-ms-transform:rotate(360deg);} } .bbc-news-visual-journalism-loading-spinner { display: block; margin: 10px auto; width: 33px; height: 33px; max-width: 33px; -webkit-animation-name: spinnerRotate; -webkit-animation-duration: 5s; -webkit-animation-iteration-count: infinite; -webkit-animation-timing-function: linear; -moz-animation-name: spinnerRotate; -moz-animation-duration: 5s; -moz-animation-iteration-count: infinite; -moz-animation-timing-function: linear; -ms-animation-name: spinnerRotate; -ms-animation-duration: 5s; -ms-animation-iteration-count: infinite; -ms-animation-timing-function: linear; background-image: url('data:image/gif;base64,R0lGODlhIQAhALMAAMPDw/Dw8BAQECAgIICAgHBwcKCgoDAwMFBQULCwsGBgYEBAQODg4JCQkAAAAP///yH/C1hNUCBEYXRhWE1QPD94cGFja2V0IGJlZ2luPSLvu78iIGlkPSJXNU0wTXBDZWhpSHpyZVN6TlRjemtjOWQiPz4gPHg6eG1wbWV0YSB4bWxuczp4PSJhZG9iZTpuczptZXRhLyIgeDp4bXB0az0iQWRvYmUgWE1QIENvcmUgNS4zLWMwMTEgNjYuMTQ1NjYxLCAyMDEyLzAyLzA2LTE0OjU2OjI3ICAgICAgICAiPiA8cmRmOlJERiB4bWxuczpyZGY9Imh0dHA6Ly93d3cudzMub3JnLzE5OTkvMDIvMjItcmRmLXN5bnRheC1ucyMiPiA8cmRmOkRlc2NyaXB0aW9uIHJkZjphYm91dD0iIiB4bWxuczp4bXA9Imh0dHA6Ly9ucy5hZG9iZS5jb20veGFwLzEuMC8iIHhtbG5zOnhtcE1NPSJodHRwOi8vbnMuYWRvYmUuY29tL3hhcC8xLjAvbW0vIiB4bWxuczpzdFJlZj0iaHR0cDovL25zLmFkb2JlLmNvbS94YXAvMS4wL3NUeXBlL1Jlc291cmNlUmVmIyIgeG1wOkNyZWF0b3JUb29sPSJBZG9iZSBQaG90b3Nob3AgQ1M2IChNYWNpbnRvc2gpIiB4bXBNTTpJbnN0YW5jZUlEPSJ4bXAuaWlkOjFFOTcwNTgzMDlCMjExRTQ4MDU3RThBRkIxMjYyOEYyIiB4bXBNTTpEb2N1bWVudElEPSJ4bXAuZGlkOjFFOTcwNTg0MDlCMjExRTQ4MDU3RThBRkIxMjYyOEYyIj4gPHhtcE1NOkRlcml2ZWRGcm9tIHN0UmVmOmluc3RhbmNlSUQ9InhtcC5paWQ6MUU5NzA1ODEwOUIyMTFFNDgwNTdFOEFGQjEyNjI4RjIiIHN0UmVmOmRvY3VtZW50SUQ9InhtcC5kaWQ6MUU5NzA1ODIwOUIyMTFFNDgwNTdFOEFGQjEyNjI4RjIiLz4gPC9yZGY6RGVzY3JpcHRpb24+IDwvcmRmOlJERj4gPC94OnhtcG1ldGE+IDw/eHBhY2tldCBlbmQ9InIiPz4B//79/Pv6+fj39vX08/Lx8O/u7ezr6uno5+bl5OPi4eDf3t3c29rZ2NfW1dTT0tHQz87NzMvKycjHxsXEw8LBwL++vby7urm4t7a1tLOysbCvrq2sq6qpqKempaSjoqGgn56dnJuamZiXlpWUk5KRkI+OjYyLiomIh4aFhIOCgYB/fn18e3p5eHd2dXRzcnFwb25tbGtqaWhnZmVkY2JhYF9eXVxbWllYV1ZVVFNSUVBPTk1MS0pJSEdGRURDQkFAPz49PDs6OTg3NjU0MzIxMC8uLSwrKikoJyYlJCMiISAfHh0cGxoZGBcWFRQTEhEQDw4NDAsKCQgHBgUEAwIBAAAh+QQAAAAAACwAAAAAIQAhAAAE0vDJSScguOrNE3IgyI0bMIQoqUoF6q5jcLigsCzwJrtCAeSjDwoRAI4aLoNxxBCglEtJoFGUKFCEqCRxKkidoIP20aoVDaifFvB8XEGDseQEUjzoDq+87IijEnIPCSlpgWwhDIVyhyKKY4wOD3+BgyF3IXpjfHFvfYF4dmghalGQSgFgDmJaM2ZWWFEEKHYSTW1AojUMFEi3K7kgDRpCIUQkAcQgCDqtIT2kFgWpYVUaOzQ2NwvTIQfVHHw04iCZKibjNAPQMB7oDgiAixjzBOsbEQA7'); } define('vjCutsTheMustard', function cutsTheMustard() { return ( document.implementation.hasFeature('http://www.w3.org/TR/SVG11/feature#BasicStructure', '1.1') && 'querySelector' in document && 'localStorage' in window && 'addEventListener' in window ); });
Click to see content: nurse_vacancy_england
require(["jquery-1", "istats-1"], function ($, istats) { $(function () { var monitorScrolling = function (ev) { if (isElementInViewport(document.getElementById('ns_chart_nurse_vacancy_england'))) { istats.log( "idt-content", "chart-entered-view", { "project" : "nurse_vacancy_england", "page" : window.location.href }); window.clearInterval(intervalID); } }; var isElementInViewport = function (el) { var rect = el.getBoundingClientRect(); return ( rect.top >= 0 && rect.left >= 0 && rect.bottom = 0 && rect.bottom