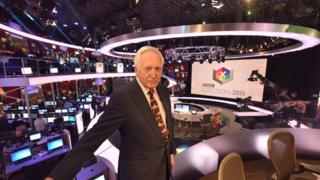 Image caption
David Dimbleby is to host the BBC's 2017 general election programme.
News presenter Huw Edwards had been expected to front the show after Dimbleby said 2015 would be his final time presenting the results coverage.
It will be the 78-year-old's 10th time hosting the programme, having first fronted it in 1979 when Margaret Thatcher became prime minister.
The programme on 8 June will run through the night.
Ahead of the 2015 general election, director of BBC News, James Harding, had said it would be Dimbleby's last as lead anchor, with Edwards set to front the show thereafter.
When Dimbleby's 2015 overnight stint finished, Edwards took over as presenter from 07:00.
Edwards also hosted the Scottish independence referendum results programme from Glasgow.