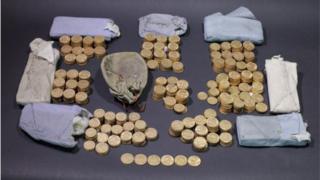 Image copyright
PA
Image caption
The largest hoard of gold sovereigns in Britain, found hidden in an old piano, has been declared treasure.
The discovery was made in Shropshire before Christmas when the piano's new owners had it retuned and repaired.
Shrewsbury Coroner's Court decided the find qualified as treasure, which means ownership now lies with the Crown. It will be offered for sale to museums.
The tuner who found the hoard and Bishops Castle Community College, which owns the piano, will share a reward.
More updates on this and other Shropshire stories
Image copyright
PA
Image caption
There are 913 gold sovereigns and half sovereigns dating from 1847 to 1915, from the reigns of Queen Victoria, Edward VII and George V.
They were found under the keyboard of the piano, carefully stitched into seven cloth-bound packets and a single leather drawstring purse, and amount to more than 6kg (13 pounds) of gold bullion.
The inquest revealed the original owner and their heirs remain unknown.
The hoard's market value will be decided by an independent Treasure Valuation Committee at the British Museum.
What is treasure?
Under the Treasure Act 1996, finders of potential treasure in England, Wales and Northern Ireland are legally obliged to notify their local coroner
An inquest then determines whether the finds constitute treasure
The act contains a number of definitions of "treasure", including prehistoric objects, coins that contain gold or silver and are at least 300 years old, or more recent valuable objects that have been deliberately hidden
If the find is declared treasure, the finder must offer it for sale to a museum at a price set by the British Museum's Treasure Valuation Committee
A reward is then offered to the finders and other relevant parties
The upright piano was made by Broadwood and Sons of London and sold to two music teachers in Saffron Waldon, Essex in 1906.
After that, the piano's history is unknown, until 1983 when it was purchased by the Hemming family in the Saffron Walden area.
Image copyright
PA
Image caption
They moved to Shropshire in the 1990s and donated the piano to the college to help its students learn to play music.